Disk Antivirus Professional is een rogueware variant behorende tot de WinWebSec familie, deze nep virusscanner zal elke uitvoer van welk ander programma dan ook blokkeren op de computer en door de valse meldingen u aansporen om het aan te kopen om de gevonden infecties te kunnen verwijderen. Doe dit nooit want u bent uw geld kwijt en het systeem zal gewoon geïnfecteerd blijven met deze rogueware.
Op de onderstaande link staat de handleiding betreffende het verwijderen van deze rogueware-infectie.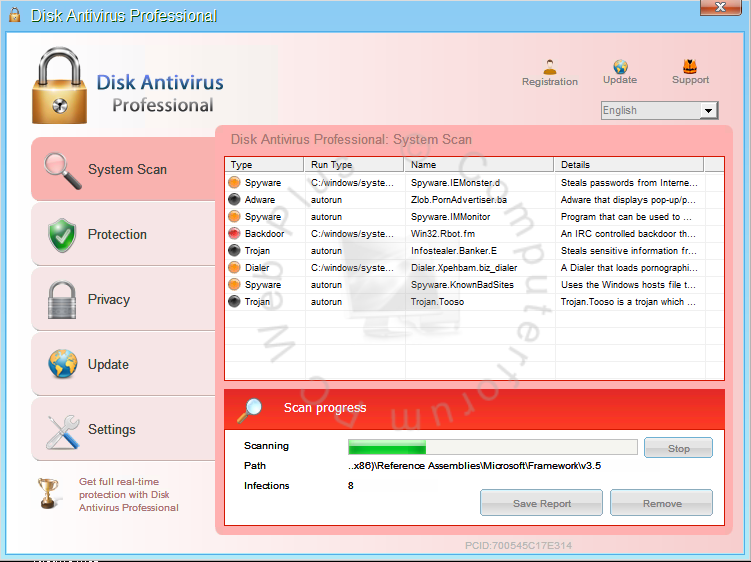 De onderstaande meldingen zullen door Disk Antivirus Professional getoond worden.
Security Monitor: WARNING!
Attention! System detected a potential hazard (TrojanSPM/LX) on your computer that may infect executable files. Your private information and PC safety is at risk.
To get rid of unwanted spyware and keep your computer safe your need to update your current security software.
Click Yes to download official intrusion detection system (IDS software).
Spyware.IEMonster activity detected. This is spyware that attempts to steal passwords from Internet Explorer, Mozilla Firefox, Outlook and other programs.
Click here to remove it immediately with Disk Antivirus.
Disk Antivirus Warning
Your PC is still infected with dangerous viruses. Activate antivirus protection to prevent data loss and avoid the theft of your credit card details.
Warning: Your computer is infected
Detected spyware infection!
Click this message to install the last update of security software…
Disk Antivirus Professional Warning
Intercepting programs that may compromise your privacy and harm your system have been detected on your PC.
Click here to remove them immediately with Disk Antivirus Professional.